One of the biggest international birding events will take place in England's smallest county next month. Birdfair, held on the shores of Rutland Water Nature Reserve, attracts thousands of visitors from around the world each year, all passionate about bird watching, eco-tourism and wildlife conservation.
Often referred to as the 'Glastonbury of the birding world', Birdfair is jointly promoted by the Leicestershire and Rutland Wildlife Trust and the RSPB and runs from Friday 16 to Sunday 18 August.
Highlights for 2019 include a Question Time session with Chris Packham, Carrie Symonds, Deborah Meaden and others looking at the current state of wildlife: a talk from Simon King on how we can change the world one step at a time: Life before Telly with Iolo Williams, and Angie and Jonathan Scott's Big Cat Tales.
Visitors to the UK's biggest wildlife event can also discover how a range of passionate conservationists, including broadcasters Mike Dilger and Mary Colwell, got started in their careers and what you can do to take your first steps, with fun quiz sessions including Would I Fly To You and Bird Brain of Britain, hosted by Stephen Moss.
Additional treats at Birdfair 2019 include wildlife cruises on Rutland Water, the Bird Photographer of the Year Awards with Chris Packham, local food and shopping stalls, plus for young families a production of The Lion King!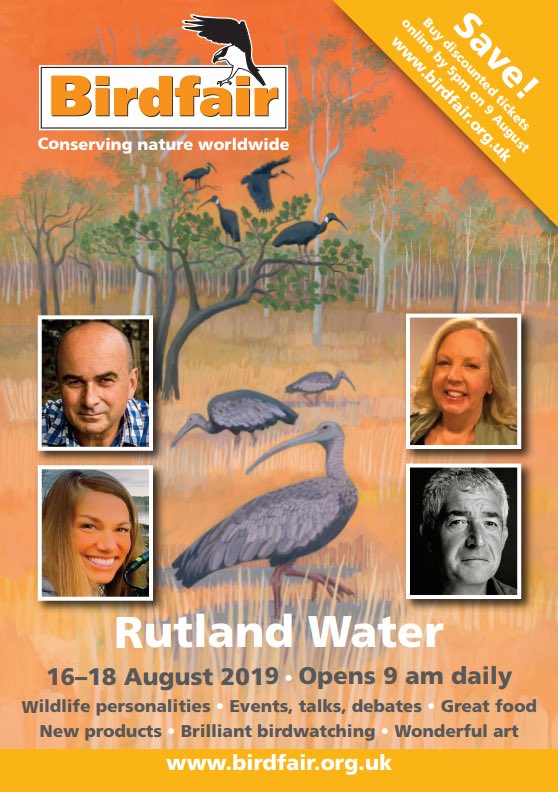 Birdfair founder and manager Tim Appleton said "There's really something for everyone this year. Whether you're a Birdfair regular or a first time visitor, this is going to be a fantastic three days. And it's worth remembering that everyone visiting is making a real difference by contributing towards wildlife conservation projects."
Each year Birdfair raises vital funds for conservation projects across the globe. This year's event will fundraise for BirdLife International's Conserving Cambodia's Big Five which will benefit Western Siem Pang Wildlife Sanctuary and the critically endangered towering Giant Ibis, White-shouldered Ibis, and White-rumped, Slender-billed, and Red-headed vulture species.
For further information and tickets for Birdfair 2019 go to www.birdfair.org.uk