International Tiger Day is held every year on the 29th of July to raise awareness for one of our most iconic yet critically endangered animals.
Wild tiger populations have fallen by around 95% since the beginning of the 20th century with only an estimated 3,900 tigers remaining. 
World Wildlife Fund for Nature (WWF)  is determined to help double the number of wild tigers to at least 6,000 by 2022 – the next Chinese year of the tiger. To achieve this, they are focusing on conservation in 13 priority landscapes, including areas in Nepal, India and Russia, but need urgent support to make this happen.
A tiger adoption with WWF offers a great way to help protect the future of these magnificent creatures and their habitat – and makes a great gift too! 
Your adoption and support will help WWF to:
secure well-managed protected areas

restore fragmented areas of habitat (wildlife corridors) so tiger populations can grow

strengthen anti-poaching patrols in and around protected areas

conduct camera trap surveys to be able to track population trends and guide conservation action

fund other essential WWF work around the world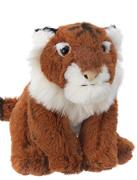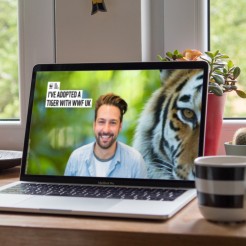 Sign up for a tiger adoption from just £3 per month and receive:
A cuddly soft toy

Regular updates from Wild World, Go Wild and Tiger

A bumper fact pack with a bookmark and stickers

Personalised adoption certificate and video call background

A wonderful gift that will help protect the future of tigers and their habitats
Postage is free, although delivery may take slightly longer than usual at the moment. For a last-minute gift, you can also download an adoption certificate to print or email on the same day.
Click here for more information and to adopt a tiger with WWF