Africa is perhaps the first destination one thinks of when considering where to view endangered species in the wild, whether that be on a safari drive or a jungle trek. Abbe Bates explores the opportunities.
West Africa
Namibia
Namibia is the last place on the planet where black rhino roam freely – one of the 'Big Five' – which also includes lion, elephant, buffalo and leopard. With the Western black rhino only recently being declared extinct by the International Union for Conservation of Nature (IUCN), it is more important than ever that efforts to save the rest of the species are supported, and well-managed tourism is one way to do this effectively.
Popular with those wishing to combine luxury and adventure, MAHLATINI works with the WILDERNESS SAFARIS' DESERT RHINO CAMP in Namibia, which offers excursions into the vast rocky desert landscape to track these rare black rhino. Rhino poaching is a crisis currently sweeping Africa, with desert rhino no exception from persecution. Fortunately for Namibia's rhino, the camp works in conjunction with UK-based charity SAVE THE RHINO, which engages in extensive monitoring, field patrols and capacity building for the species. Since the charity's intervention 30 years ago, black rhino numbers have increased to five times their original standing.
South Africa
South Africa is currently experiencing a major crisis in rhino poaching, but other species are also suffering, so organisations such as EARTHWATCH, which works with tour operator KUONI, give vital support. Kuoni's wildlife volunteering holidays currently offer opportunities including the study of the leopards and primates (chacma baboons, vervet monkeys and samango monkeys) of the Soutpansberg Mountain range. Tasks range from observing behavior and collecting GPS data to trialling revolutionary new technology. In particular, local farmers see the monkeys as pests quick to take advantage of crops and this project helps examine how to help the two co-exist well.
KUONI and EARTHWATCH also work together to offer a volunteering holiday that helps protect penguins in South Africa. In 2010, the conservation status for the African penguin was changed from Vulnerable to Endangered and research into their survival rates, foraging ecology and overall breeding productivity is essential for future conservation. The main concern for Earthwatch is to help understand the causes for the African Penguins' rapid population decline and to use any information gathered to help develop appropriate conservation methods. Money from the trips helps fund research and education work as well as buying basic equipment.
Biosphere offers a volunteer expedition to South Africa's Cape Floral Kingdom, a UNESCO World Heritage Site, to survey of leopard and to experience African wildlife such as buffalo, giraffe, eland, kudu, zebra. There's also a chance to learn bush skills, set camera traps, conduct game counts and also assist with cat capturing and collaring, with all efforts to help lessen human-wildlife conflict and create a sustainable future.
East Africa
Kenya
KENYA is a firm favourite amongst African destinations, with the prolific fauna of the MASAI MARA NATURE RESERVE, which joins up with the Serengeti National Park in Tanzania, a highlight. INTREPID offers a package, 'The Masai Heartlands', that includes a visit to the Masai  Mara, with the chance to see an array of wildlife including lion, leopard, cheetah, elephant, buffalo, rhino, zebra, giraffe and hippo, plus wildebeest and many species of antelope and some of East Africa's splendid birdlife. There is also a meeting with local Masai people and a chance to learn something about their fascinating culture.
A highlight of MAHLATINI'S itineraries is the recently-opened SEGERA RETREAT in LAIKIPIA, Kenya, dedicated to conservation, but also providing guests with an authentic wilderness experience, with sweeping savannah plains and innumerable game. The lodge has enacted an array of policies to monitor the ecology of the area, with specially trained rangers keeping guard over the habitat. Segera has also created a 20-acre agricultural plot; a demonstration to locals on how sustainable farming can be effectively practiced. Guests can explore the area's vibrant local culture and meet the communities the lodge aims to help, and observe the many species of wildlife that populate the area, including elephant.
Tanzania
Tanzania's SERENGETI plains have been welcoming travellers for decades, hooked by the continent's highest mountain, Mount Kilimanjaro.
NATURETREK offers an itinerary that visits the Serengeti, along with other flagship reserves in Northern Tanzania such as Ngorongoro Crater, the world's largest inactive caldera, and Arusha National Park, home to elephants, Masai giraffe, buffalo and waterbuck, plus a wonderful variety of birdlife, from the spectacular tacazze sunbird to the prehistoric-looking ground hornbill. The itinerary visits the Lobo region of the Serengeti National Park, dotted with rocky outcrops called 'kopjes'. Between December and April, two million white-bearded wildebeest and tens of thousands of Burchell's zebra and Thompson's gazelles spread out over the short grass plains of the southern Serengeti and the Ngorongoro Conservation Area, creating one of the world's great wildlife spectacles.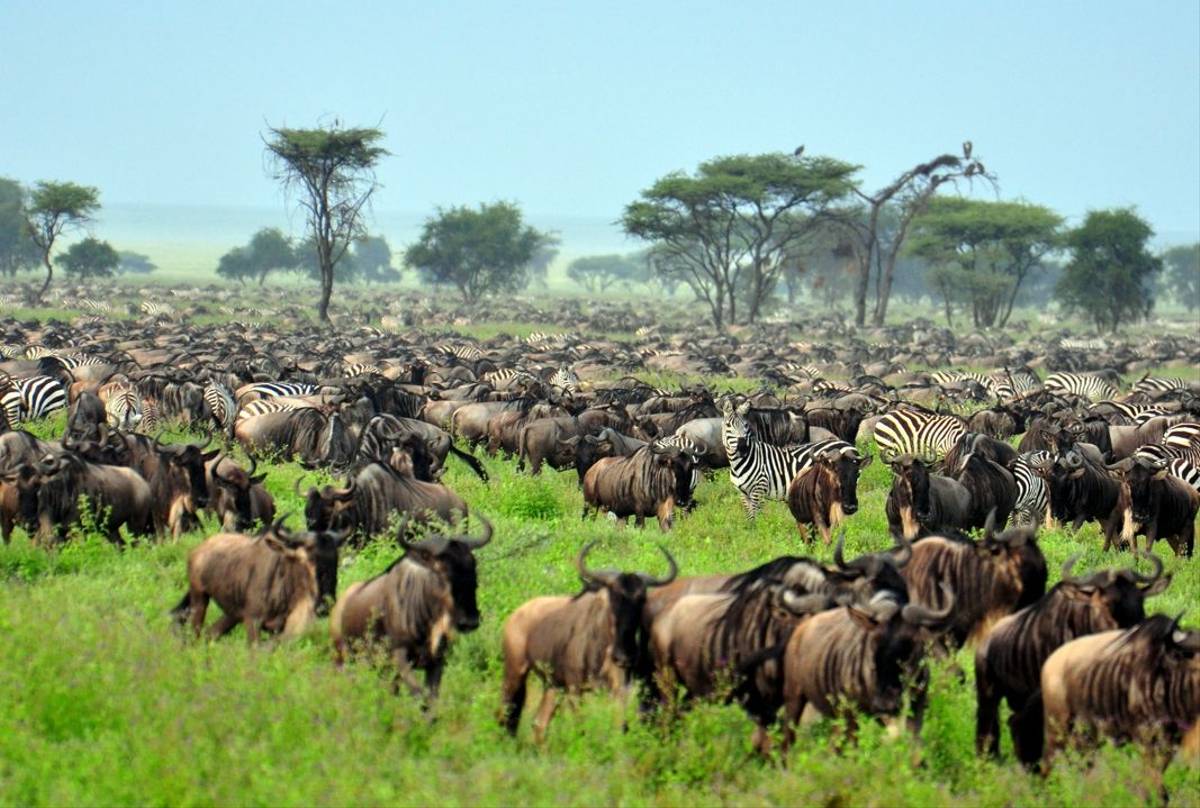 EXODUS offers a different way to see the country. Its TANZANIA CYCLE SAFARI combines the best that being on safari in Tanzania has to offer interspersed with cycling through a diverse and spectacular landscape. Starting from ARUSHA in the north of the country, you head out across cultivated banana and coffee plantations before meeting the RIFT VALLEY and the grasslands used by the Masai for grazing cattle. Cyclists get close to the southern shores of LAKE MANYARA and will almost certainly spot some game here – zebra, giraffe and wildebeest. The final days of cycling head to LAKE NATRON and the awe-inspiring active volcano OL DOINYO LENGAI, passing only Masai with their cattle and the wildlife they live alongside.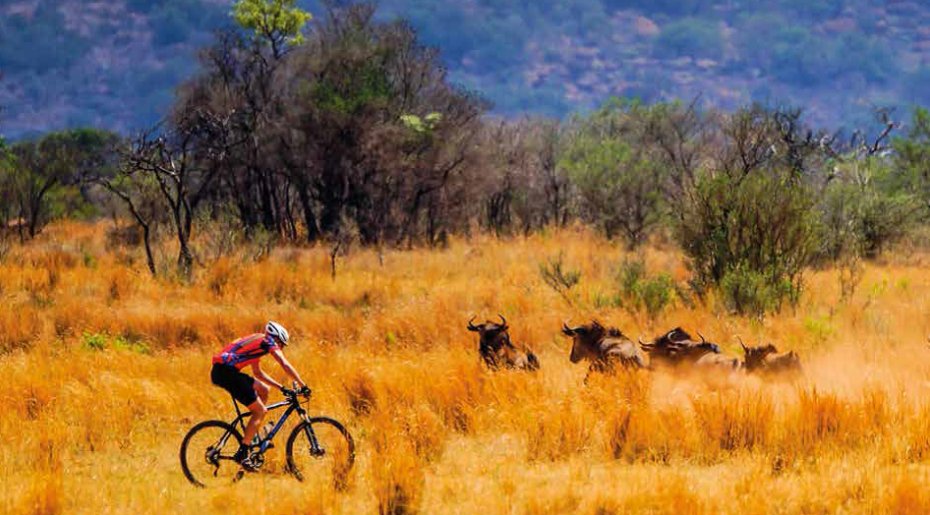 Uganda and Rwanda
Whilst Kenya and Tanzania have their famous national parks as a huge wildlife draw on a safari expedition, near neighbours UGANDA and RWANDA play an important role in the survival of the mountain gorilla, of which there are only 700 remaining on earth. Nearly hunted to extinction by poachers, they are still endangered but are slowly recovering their numbers, due in no small part to sensitive tourism efforts. The jungle terrain is best suited to trekking with a ranger guide and in very small groups due to the elusive and private nature of these animals. The majority of the gorillas live in the Virunga Mountains that cross Rwanda, Uganda and the Democratic Republic of Congo, while a smaller number live in the Bwindi Impenetrable Forest of Uganda. It is possible to watch a handful of these groups in the wild – the largest primates in the world – with troops led by huge silverback males.
MAHLATINI can include the BWINDI SAFARI LODGE in the BWINDI NATIONAL PARK, Uganda, in their programmes, where guests have one of the best chances to meet these elusive creatures, all the while staying in one of the park's most exclusive properties. To encourage development through conservation, THE UGANDAN WILDLIFE AUTHORITY at Bwindi works in partnership with local communities. Locals receive a proportion of the park's revenue, are offered employment as rangers and wardens and are taught how to better make use of the land. Through this, the local people are less tempted to turn to poaching as a source of income.
SAFARI TOP TIPS
Accommodation is generally in lodges or camps, with the latter allowing travellers the excitement of sleeping out under the stars.
Unfortunately, big game hunting is an activity openly promoted by some African tourist boards, it is important to make sure that you book through a reputable tour operator, with a proven track record in ethical conservation practices.
Steer clear of those whose offer involves unnecessary close contact with wild animals, which only serves as a photo opportunity and is of no benefit to the animal.